A masterpiece made of titanium.
Revival Cycles is showcasing big boxer engines with the Birdcage.
Alan Stulberg is a fan of boxer engines. He and his team have created a unique custom bike, living out his creative freedom, for a prototype two-cylinder boxer engine. Inspired by BMW motorcycles from the 1930s and racecars from the early 1960s, this one-of-a-kind bike will be on display for the first time at the Handbuilt Motorcycle Show in Austin, Texas: The Revival Birdcage!
BETWEEN REVIVAL AND CITATION
Customizer Alan Stulberg already impressively demonstrated in 2016, with the bike Revival Henne BMW Landspeeder, that he knows how to interpret the history of BMW Motorrad. Alan has brought the spirit of that era, when Ernst Henne set world records on BMW motorcycles, back to life with this complete Birdcage build. And with the frame, he cites the racecars of the early 1960s; the powerful boxer engine gets all the attention thanks to this design.
+ Read more
A masterpiece made of titanium and 134 parts.
A masterpiece made of titanium and 134 parts.
The frame that Alan designed gives an unobstructed view of the engine and the drive linkage. The observer can look through the frame, its rods are that thin. The customizer used 9 millimetre titanium rods for the first time. He welded together 134 parts to create an impressive and delicate design based on the lattice tube frame of a Maserati birdcage. A design that is experiencing a revival at this custom shop. "I wanted to establish the engine as the absolute most extraordinary feature of the build." Alan also plays around with asymmetry, a theme that forms the leitmotif for the frame and bike: the staggered cylinders, the drive linkage on the right side of the motorcycle, and other components installed asymmetrically.
+ Read more
To the limit.
To the limit.
Alan normally prefers subtle, elegant lines, themes, materials, and colours over overt, bright, strange, and eye-catching styles. When building the Birdcage, he opted for a less subtle approach: "I've become more showy and started pushing the boundaries." The Revival Cycles shop also focuses on uniqueness when it comes to the tyres: These customizers use 23 inch slicks from Dunlop, which are pure prototypes. "We are the only ones in the world who have them." And there was even a temporary cooperation between customizers: Craig Rodsmith (Rodsmith Motorcycles) was a guest for four days at Revival Cycles. This metalworking master completed the engine covers made of naturally polished aluminium and designed by Alan. These covers emphasize the curves and oval shape of the engine.
+ Read more
»
This giant boxer, with its power and torque, has enormous potential. »
Alan Stulberg
Revival Cycles
Frame
9 mm titanium rod, 134 parts
Front suspension
Fork made by Revival Cycles
Rear suspension
Pinion made by Revival Cycles
Exhaust
Hand-made from titanium by Revival Cycles
Bodywork (including tank, trim panel, and seat bench)
All the control elements, like the handlebar, footrests, gear and brake levers, as well as the seat, are shaped and finished by hand at Revival Cycles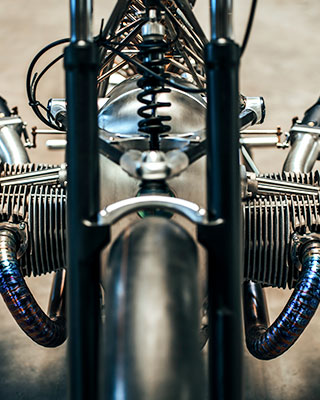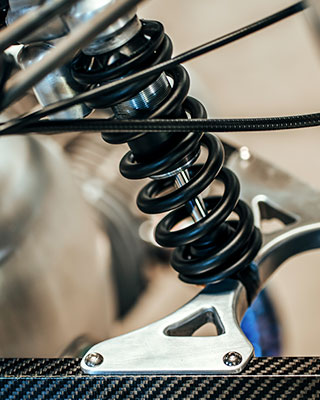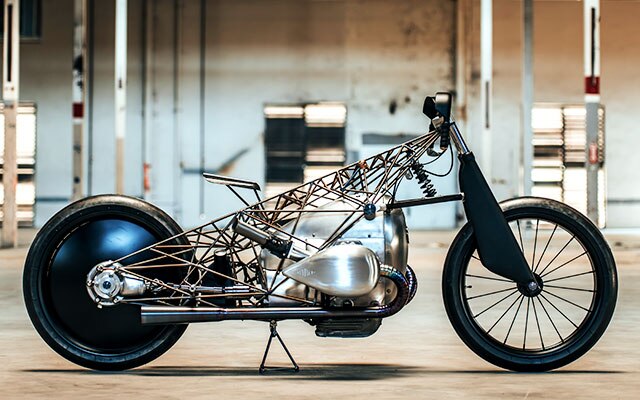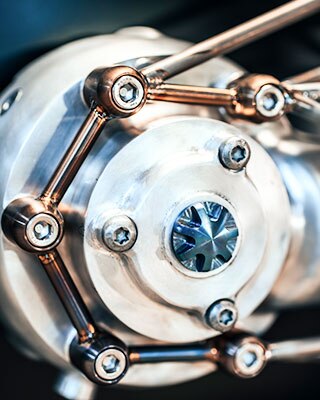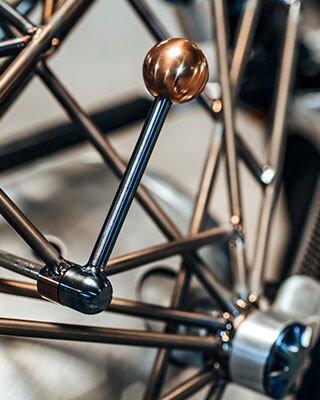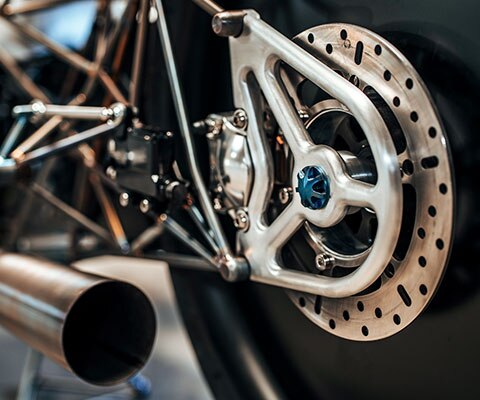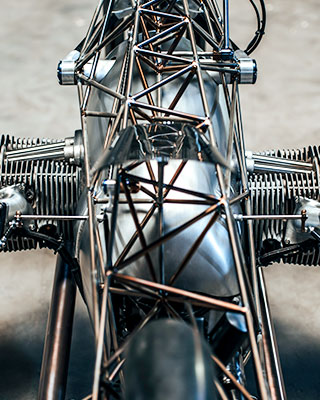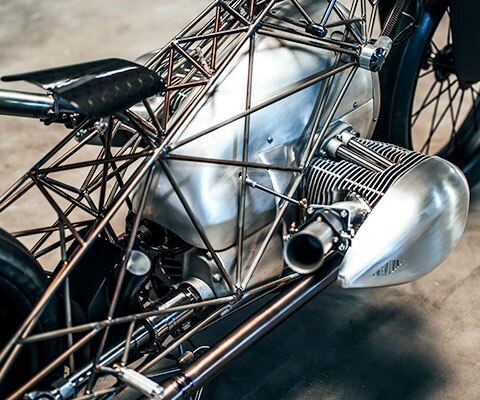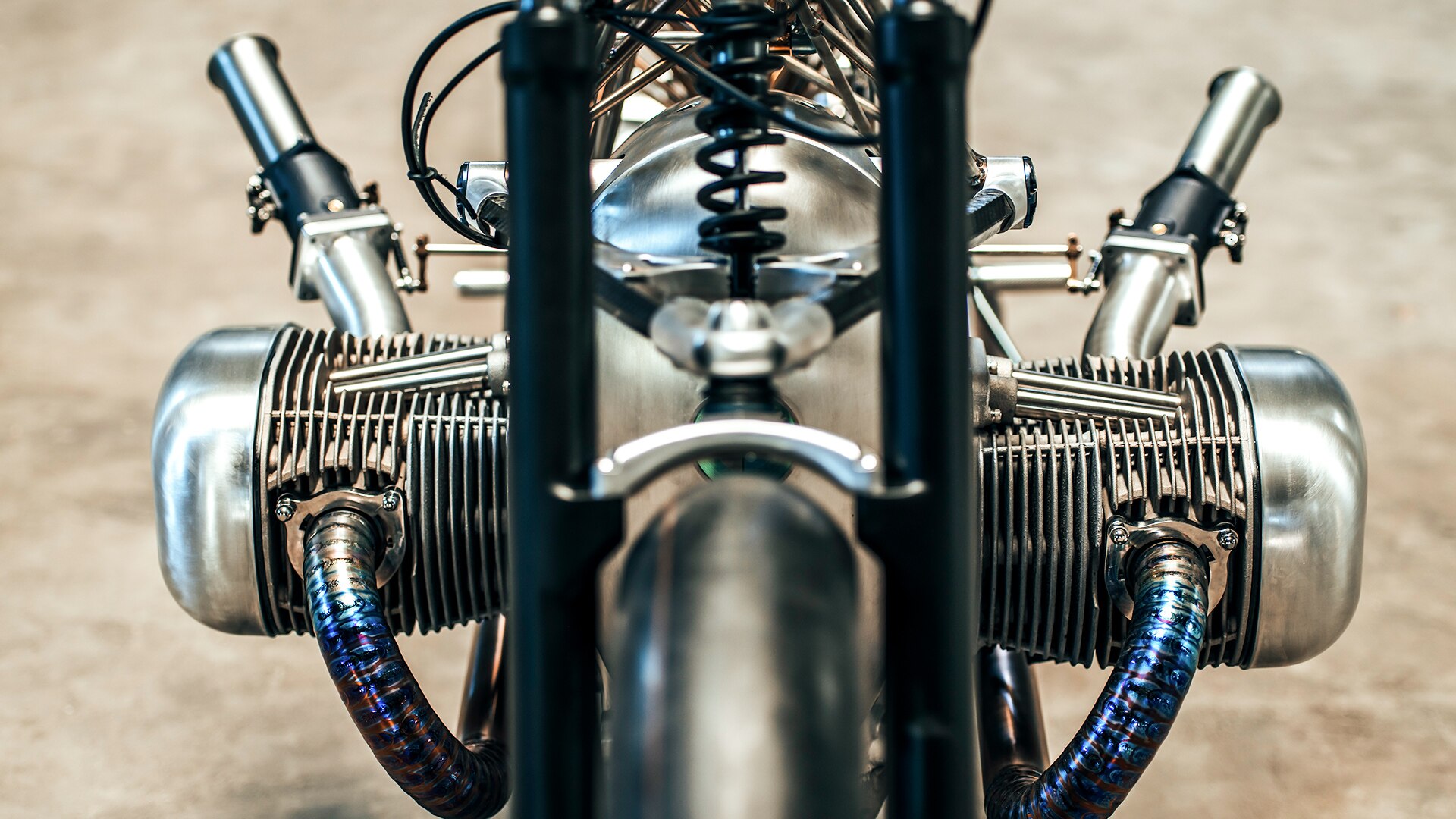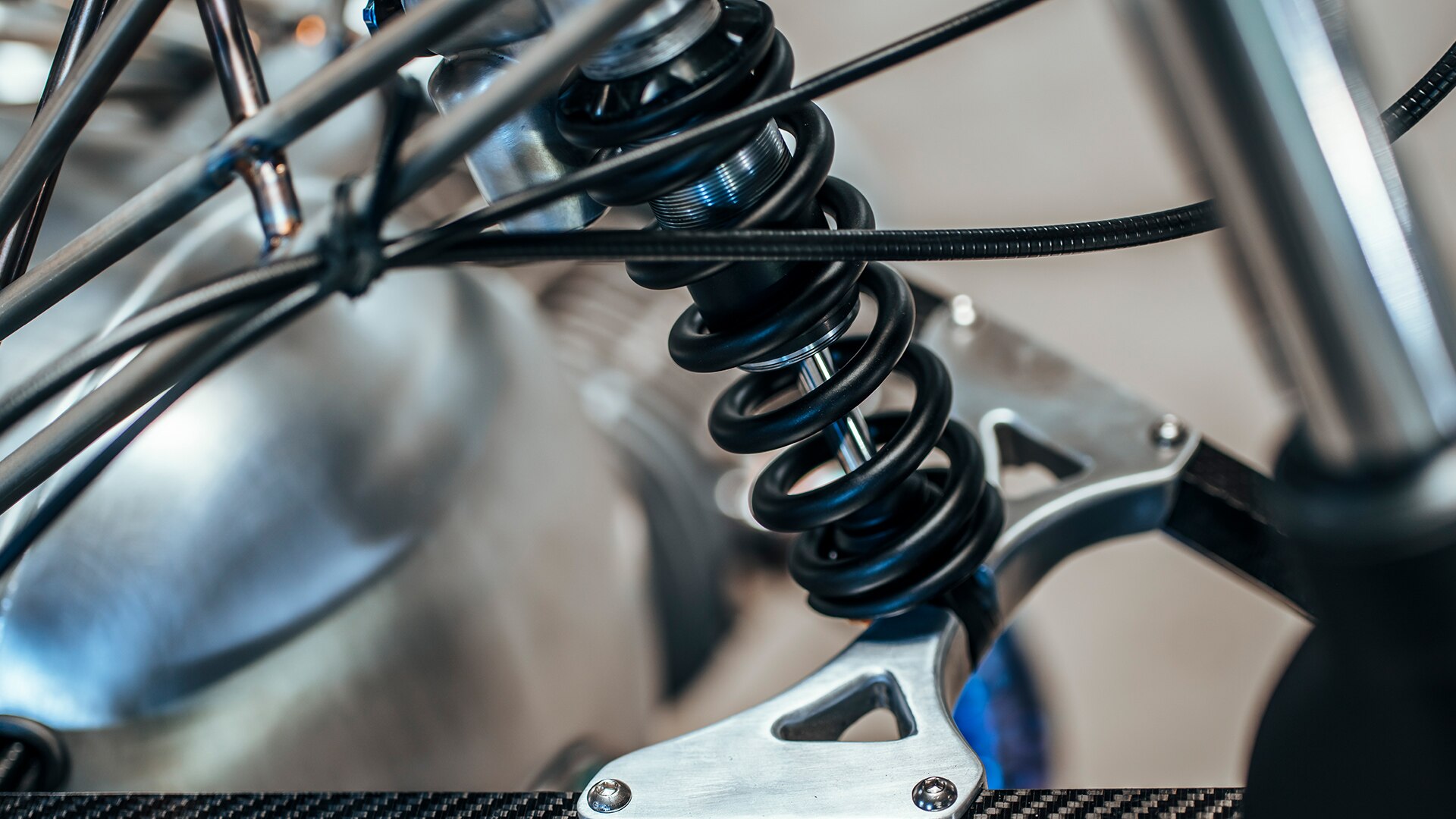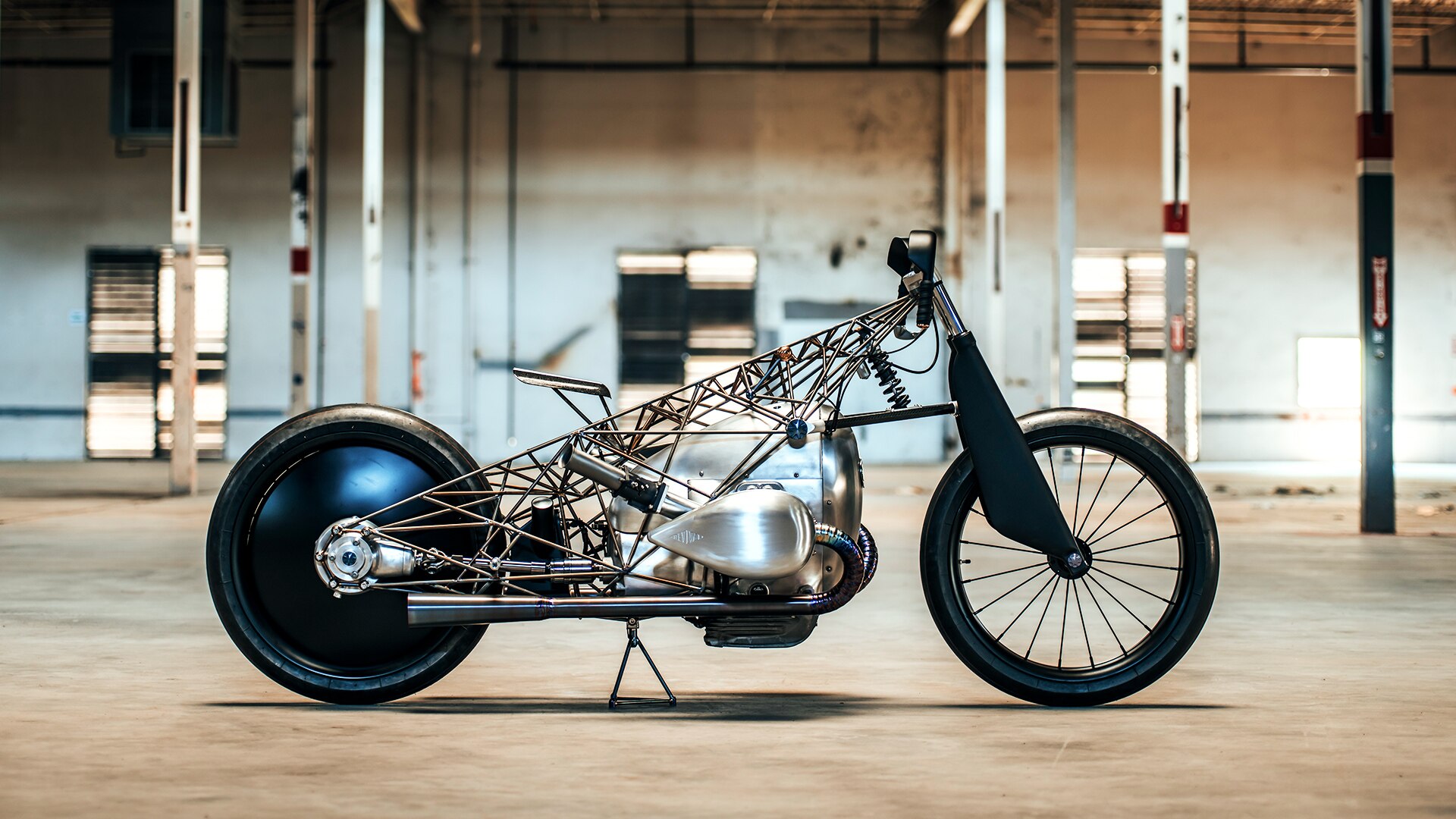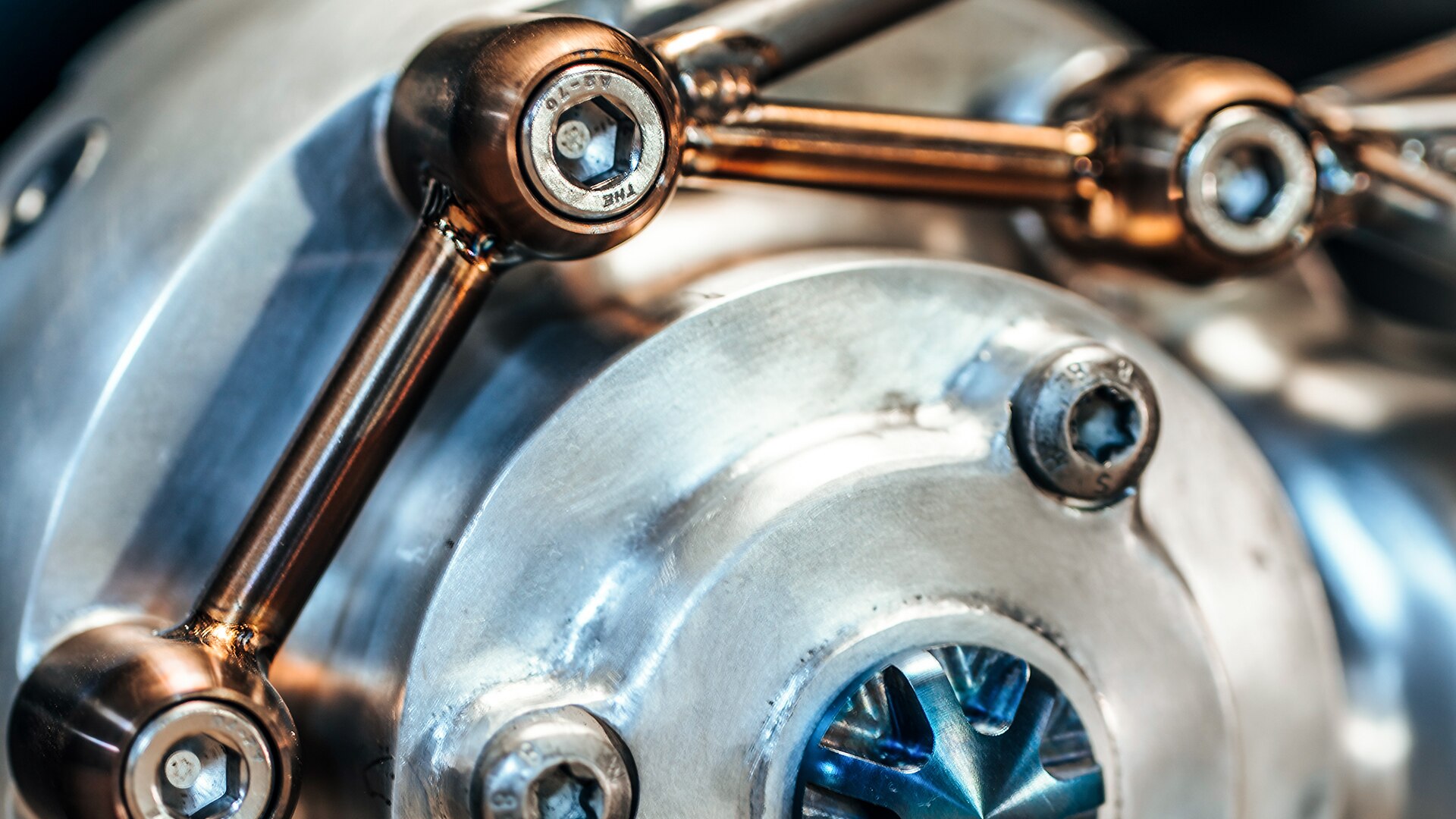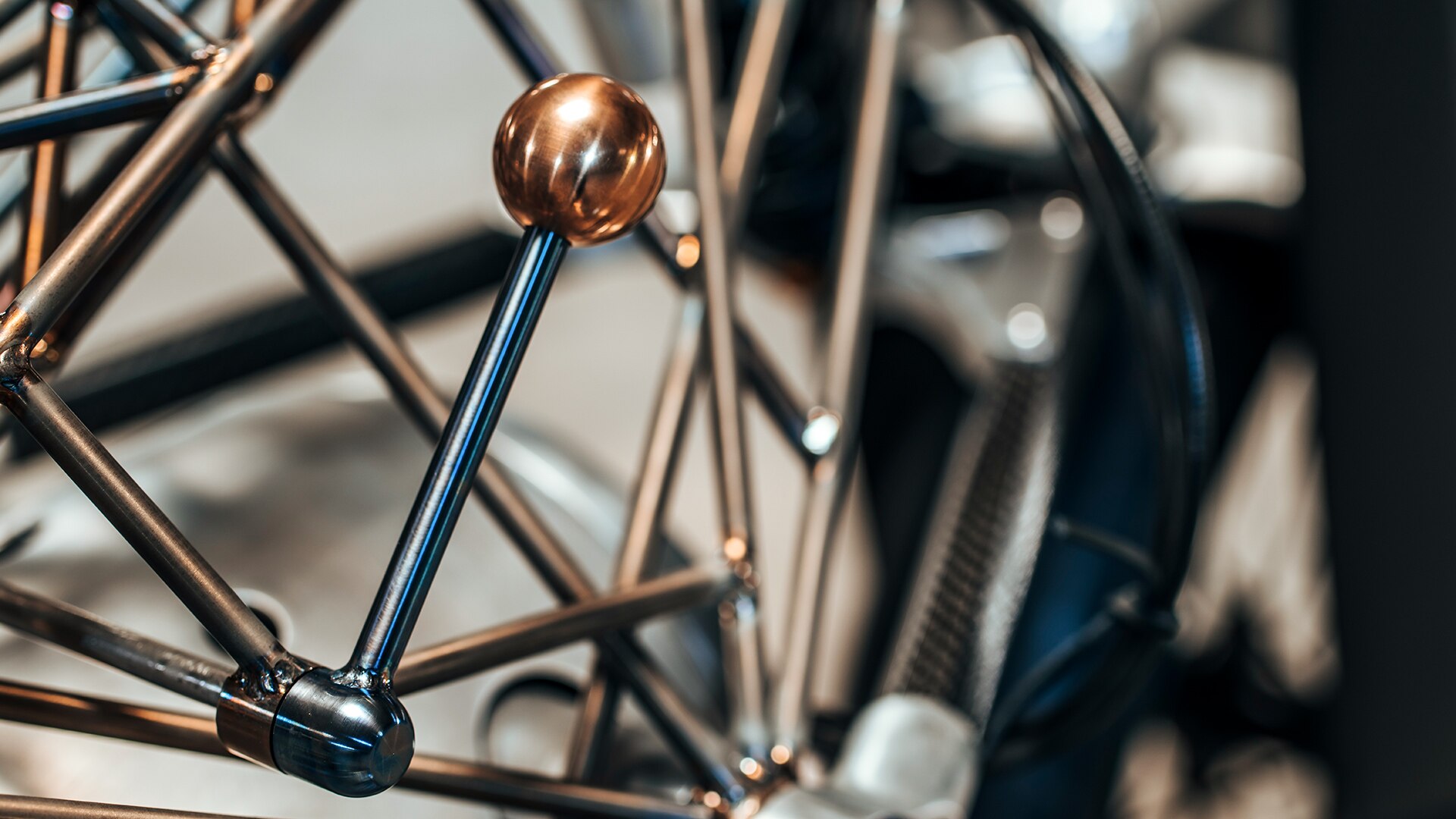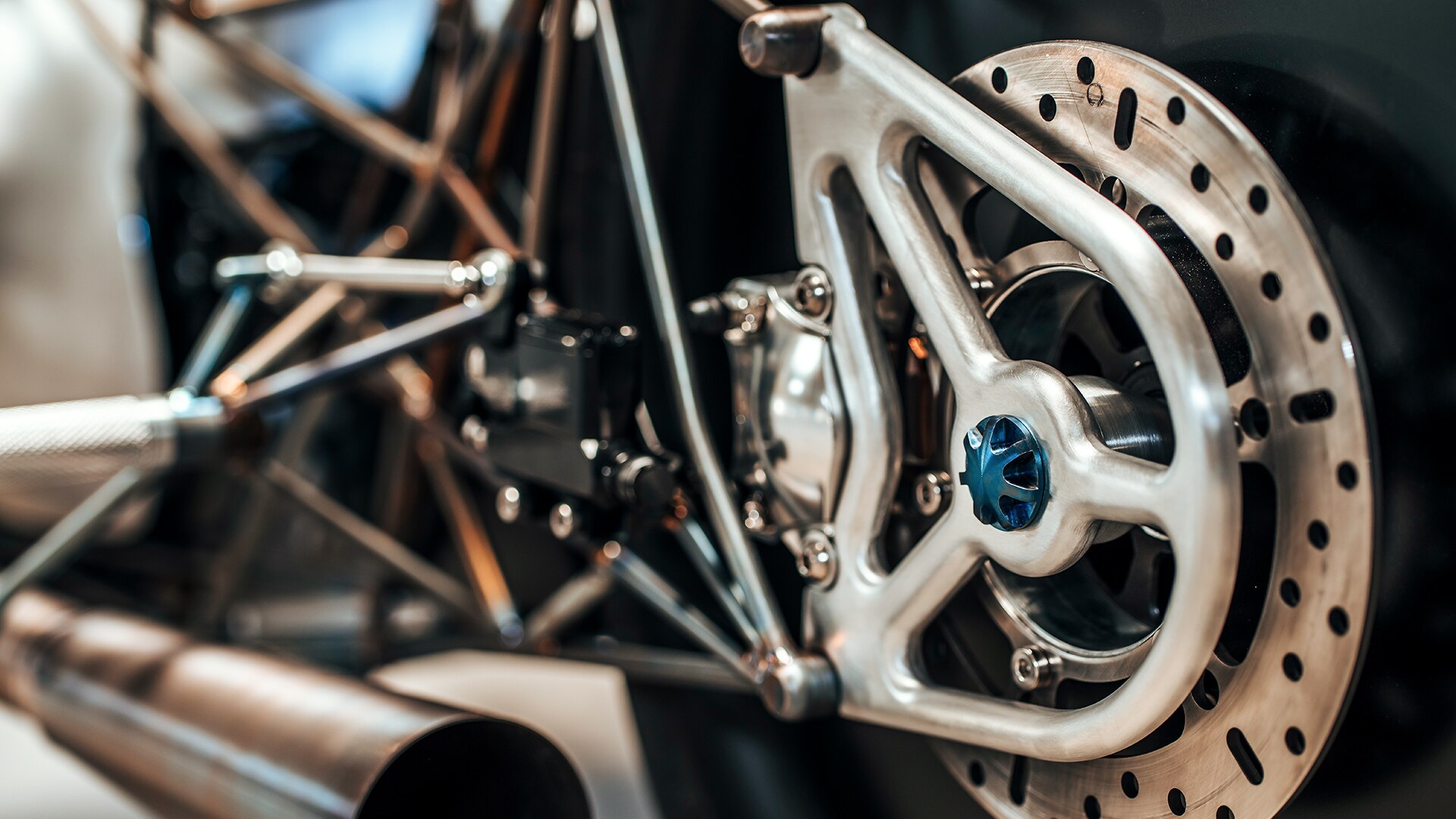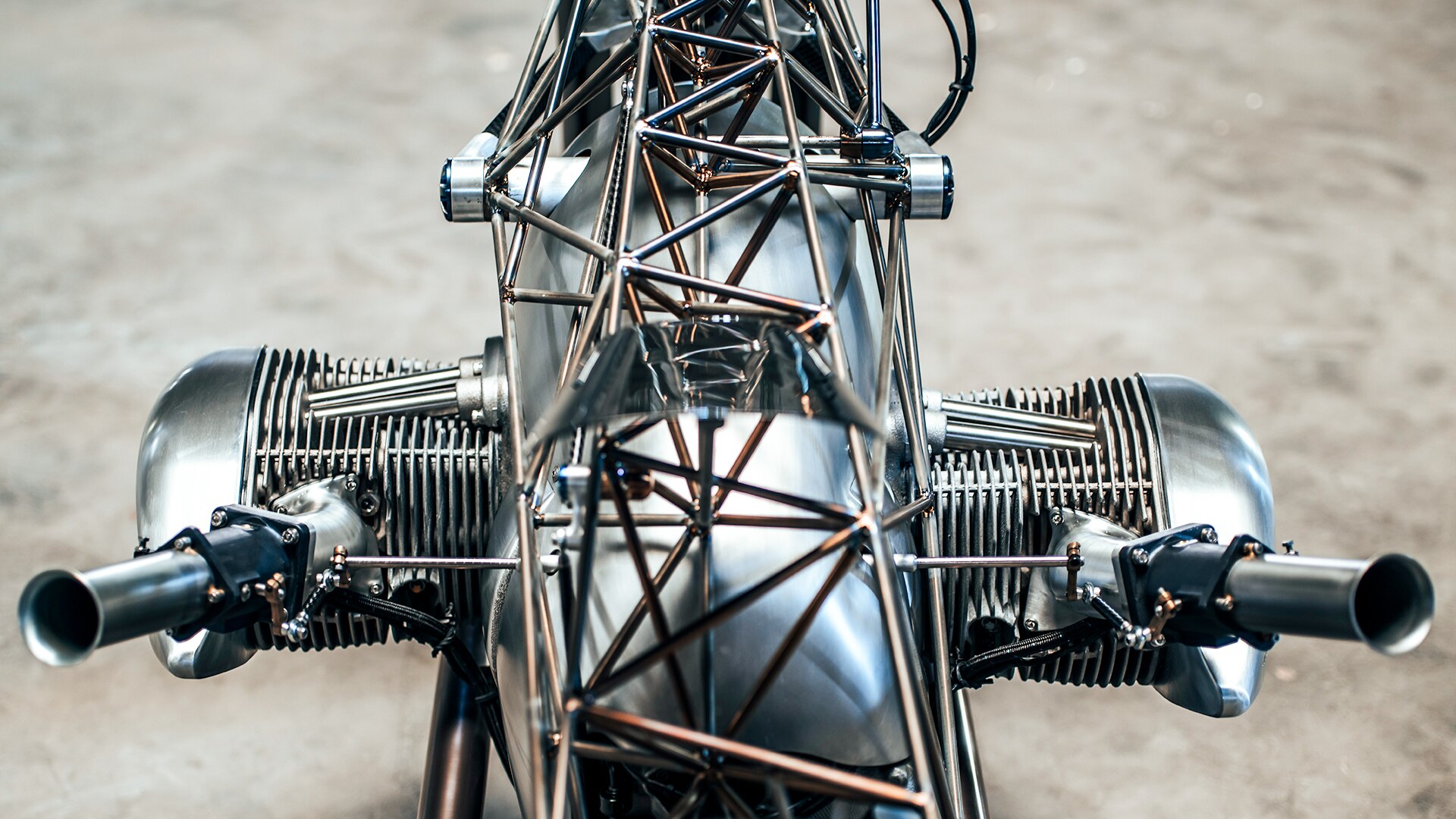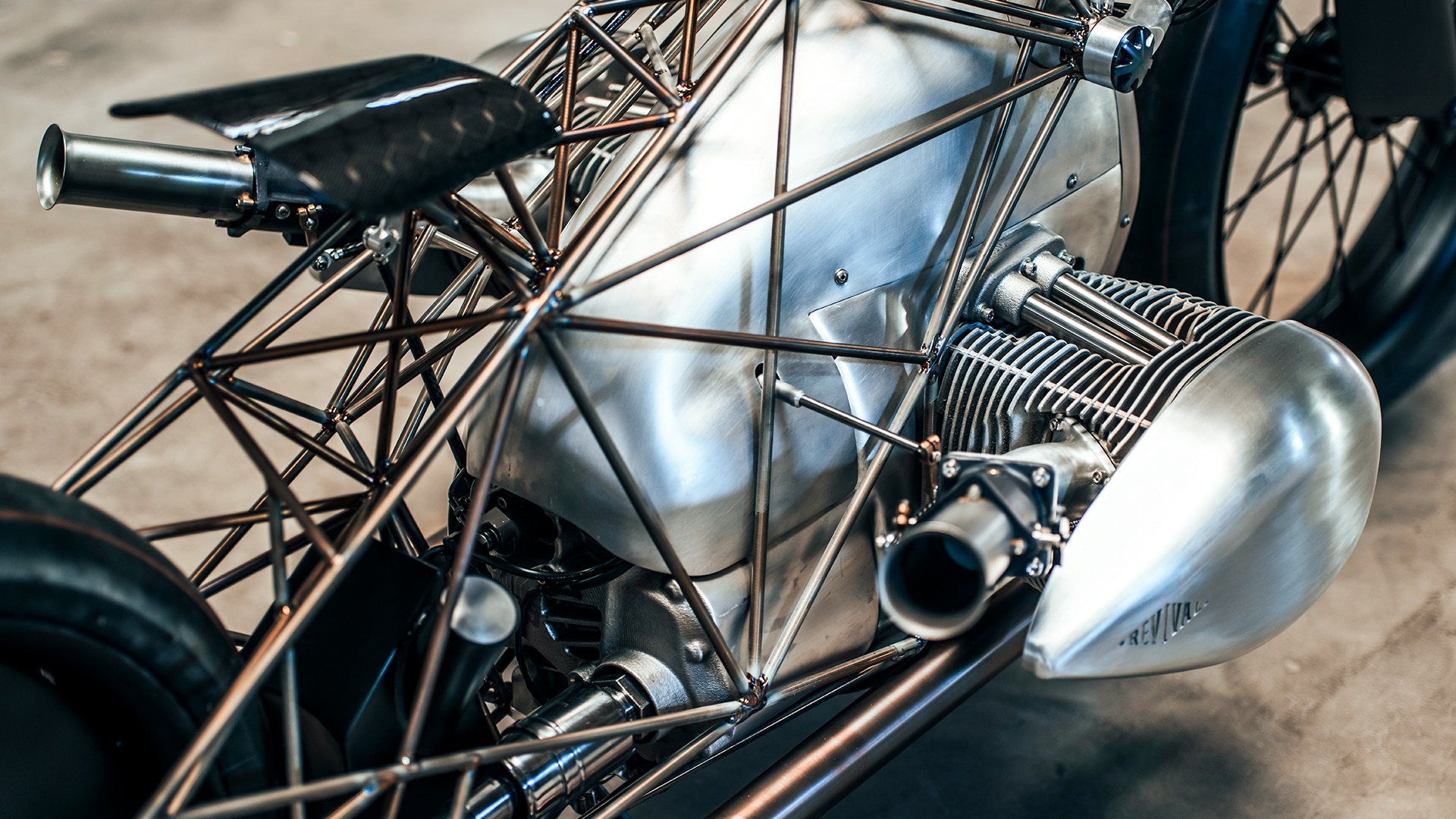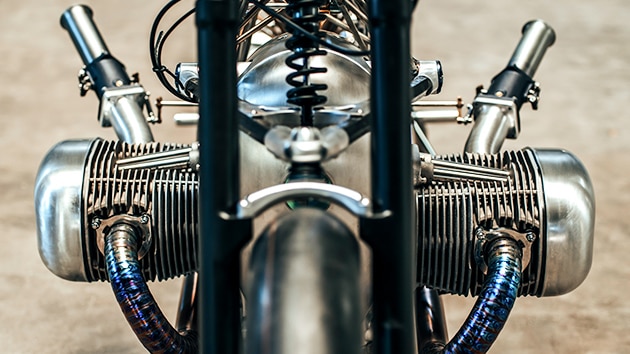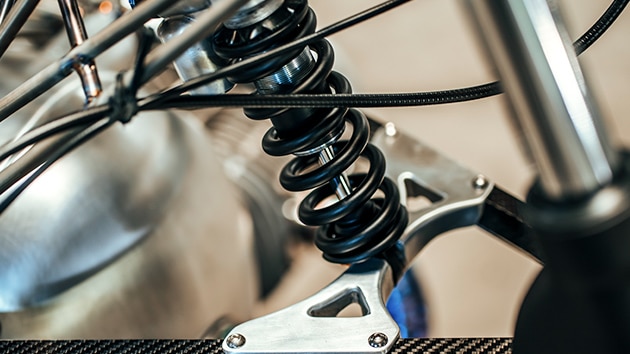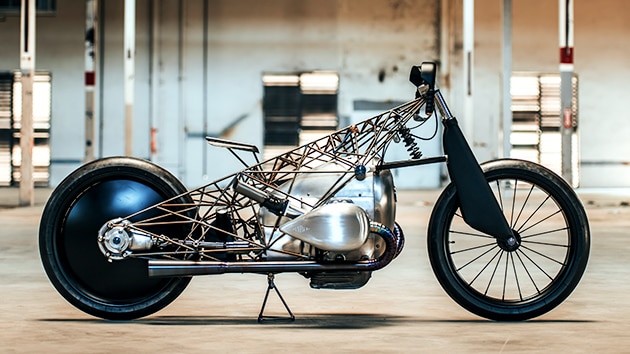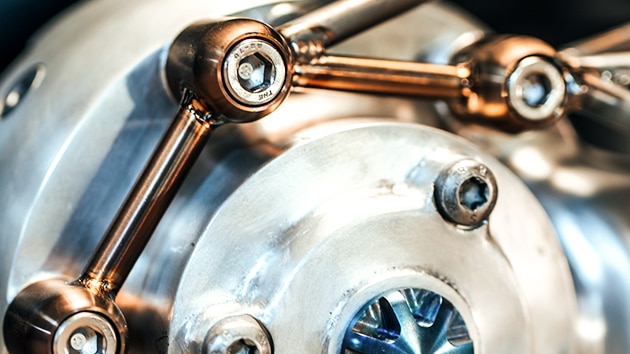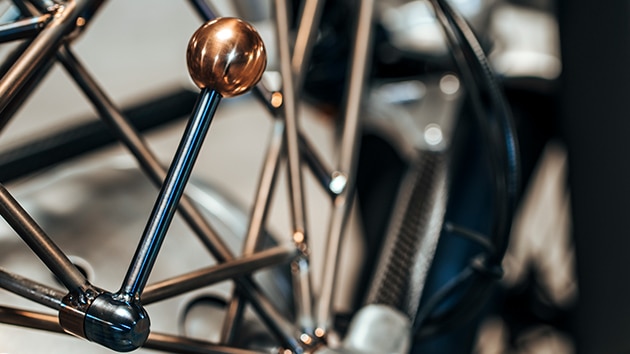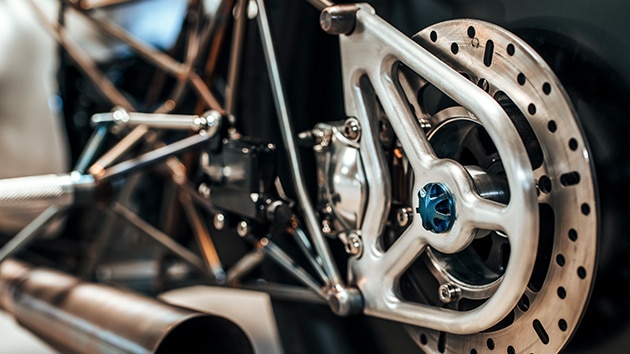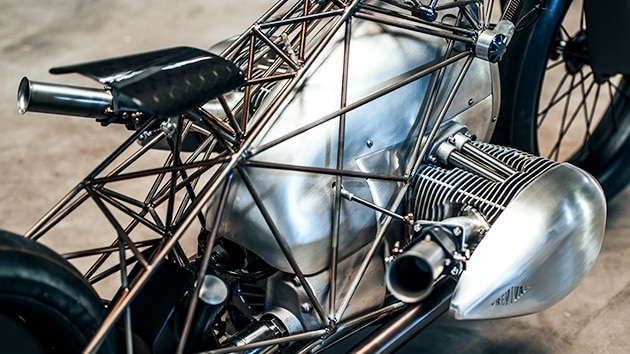 Dreams become a reality.
Dreams become a reality.
From the very first look at the new engine from BMW Motorrad, Alan was impressed by its aesthetic and powerful presence. "This giant boxer, with its power and torque, has enormous potential," explains Alan. The idea to design a bike like this laid dormant in his mind for many years, and with this engine from BMW Motorrad, the opportunity arose. A very time-intensive process begins. Six months alone for the concept with its drawings and lines. Alan decided on the wheel and tyre sizes before creating the CAD drawings for the geometry and mechanics. Then followed the model in order to review the aesthetics, physics, and functionality.
+ Read more
The Revival Birdcage is right up Alan's alley. "This was far and away a very liberating and personally enjoyable project because I had the creative freedom to build the bike according to my vision," summarizes the American. Alan already had the hang of motorcycles, their design and mechanics. He is fascinated by technology; he feels its magic. After leaving his sales job in 2007, Alan turned his hobby into a project that earned him enough money to never have to go back to the routine of a nine-to-five job. "I just couldn't stop changing and modifying every mechanical item that I owned or worked on." He took matters into his own hands: There is always a revival to develop. And now, Alan has brought this custom Birdcage bike to life.
+ Read more
Disclaimer
The vehicles shown here may be modified and equipped with third party custom parts and/or self-made components that are neither manufactured nor distributed or tested by BMW. BMW accepts no liability for such modifications (including installation, characteristics and use of the shown custom parts/components). ATTENTION: Modification of series vehicles (including installation and use of third-party custom parts and/or self-made components) may impair riding characteristics! Riding modified BMW vehicles is at your own risk.